2019 7th Annual M. J. & AUDREY MAE BARRETT
"Memorial Christmas Give"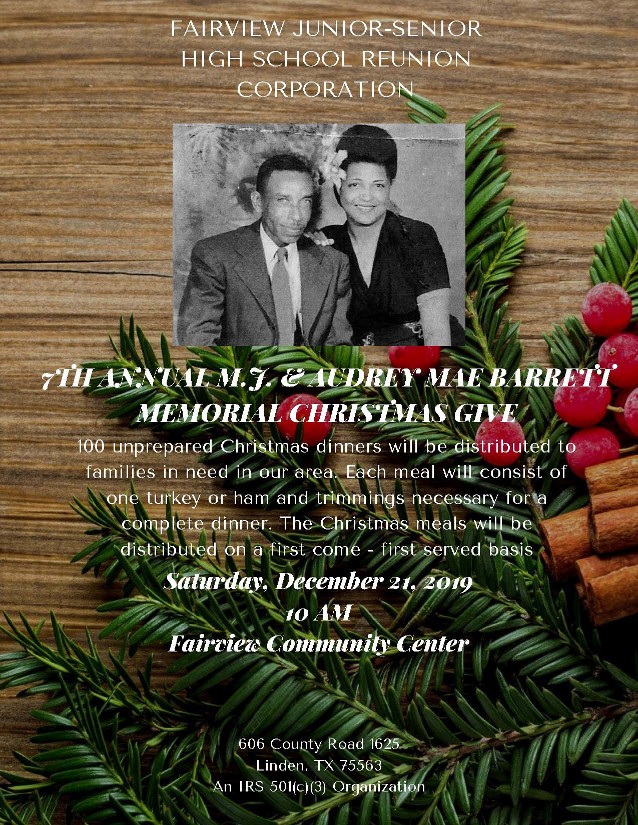 Dear Fairview Nation,

As we enter the "Season of Giving," the Fairview Reunion Corporation ("FRC") will be holding its "7th Annual M.J. & Audrey Mae Barrett Memorial Christmas Give" on Saturday, December 21, 2019 at 10:00 A.M. at the Fairview Community Center, 606 County Road 1625, Linden, Texas. A copy of the flyer is attached (click on attachment to access). Please spread the word!
The FRC Christmas Give program will distribute approximately 100 (one hundred) unprepared Christmas dinners to needy families in our area. Each dinner will consist of one ham or turkey with the trimmings necessary for a complete meal. The Christmas dinners will be distributed on a "first come - first served" basis, until they are all gone.

Again this year, the FRC will be conducting the "FRC Toys for Tots" campaign. The toys collected will be given to those families with children who come to the "FRC Christmas Give." For those of you who do not live in the Linden local area, you may send your toy, or tax-deductible charitable donation, to support these programs to:

Fairview Reunion Corporation
Attn: 2019 Christmas Give
P.O. Box 778
Linden, Texas 75563-0778

It is our goal, as an Internal Revenue Service 501(c)(3) charitable and community-based organization, to remain relevant and to support our community by "caring and sharing" with those who might be in need. Your contributions and donations are tax-deductible.

Please feel free to assist the FRC in helping make a better holiday season for those who are less fortunate.

Your continued support of our programs is greatly needed and deeply appreciated! Thanks in advance for your support and contributions!!!!
Happy Holidays to All!

Darrell Barrett
FRC Board Member
on behalf of the FRC